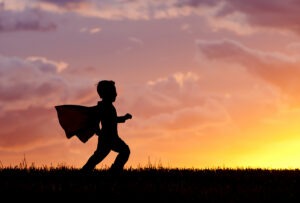 One day I was teaching a customer service class, and I remember a woman complaining non-stop about how miserable she was in her job.
She went on and on about how she hated all of her coworkers, she hated her boss, she hated serving customers, and most of all, she felt like her job was taking years off of her life due to "being around stupid people all day."
When she was done with her rant, I asked her a very obvious question that she probably should have asked herself years ago:
"If you're so miserable here, shouldn't you consider finding another job that will make you happy?"
She was completely shocked by my question, before she finally responded.
"Well, I have bills to pay and I need this job. But that's not even the issue. I just don't understand why this company has so many idiots working here. They should be the ones who have to quit, not me…" Blah, blah, blah.
On and on she went. It was truly sad to listen to her.
She believed that the responsibility for fixing her unhappiness in her job belonged to her company, to her coworkers, and to her boss.
The fact is, no one is going to save her from a job that she hates–least of all, the "idiots" who she hates working with.
But I know who can.
Superman is Busy
The best day of your life is the one on which you decide your life is your own. No apologies or excuses. The gift of life is yours. It's an amazing journey, and you alone are responsible for the quality of it." -Dan Zadra
There is not one post on The Positivity Solution that will be of any use to anyone if we're not willing to do one very important thing:
Take full responsibility for the quality (or lack of it) of our lives.
What good is any blog post, advice, or encouragement if we foolishly believe that someone else has the power to save us, besides ourselves?
Let's be real.
Superman isn't coming, because Superman isn't real.
And even if he was real, he would probably be too busy to save us anyway.
The good news is that we don't need him.
The responsibility for saving us and leading us to our best lives, is our responsibility and our responsibility alone.
Simply put, we need to be the heroes in our lives.
And truthfully, doesn't that make sense?
The person with the most power over our lives will always be the person looking back at us in the bathroom mirror every morning.
We're the ones who are making the decisions in our lives.
We're the ones in charge of our thoughts, words, and actions.
Most of all, we're the ones with the most invested in our overall happiness and well-being.
Contrary to popular belief, it will never be our bosses, our significant others, our parents, or anyone else who hold any power over us.
Unless we choose to give them that power, of course.
Make no mistake though, our power belongs to us.
And since we're on the topic of mistakes, the biggest one that we'll ever make in our entire lives is choosing to give that power to someone else.
The Best (and Toughest) Advice I've Ever Received
The world owes you nothing. It was here first." -Mark Twain
In 40+ years of life, I have been fortunate enough to have some amazing mentors.
During one particularly whiny period of life, I remember being addicted to the triple-whammy of personal mediocrity: 1) Chronically complaining, 2) making excuses for everything that was going wrong in my life and 3) blaming everyone else for my problems.
I still remember telling one of mentors (my psychology professor in college) that "I work my ass off at my work study job! I deserve to be treated better by my boss! It is so unfair."
What my mentor told me next hurt like hell, but it changed my life forever.
"The world doesn't owe you anything."
Ouch.
Sure it stung, but she was absolutely right. The world doesn't owe us anything. Not a damn thing.
That's why we can't fall victim to these way-too-common thoughts:
I give this company 110% effort on a daily basis. I deserve a boss who respects me.
I do everything for this family. I deserve a spouse who appreciates my efforts.
I'm such a nice person. I deserve a loving relationship.
Truthfully, your boss should respect you, your spouse should appreciate you, and you deserve the greatest love that this world has to offer.
But if you're not getting those things and you truly want those things, then don't wait for the world to magically hook you up with those things.
The world owes us nothing.
It doesn't owe us a respectful boss, an appreciative spouse, true love, or anything else.
We owe it to ourselves to make those things happen for us.
Ever since I started The Positivity Solution, I have heard a lot of people tell me, "Shola, it's not that easy."
Seriously, can we all agree right now that is the worst comeback in the history of the world? Does something have to be easy in order for us to do it? 
Being our own heroes isn't about "easy."
Sadly, I'm writing this as a former chronically complaining, professional excuse-maker who wouldn't do anything unless it was easy.
Unfortunately, there's nothing easy about being the hero in our own story.
What is easy is making excuses and blaming others for our problems.
Being a hero means keeping our power by always taking full responsibility over the quality of our lives. I failed to do that for far too many years and I paid a very steep price for it, both professionally and personally.
If we're going to be heroes, we need to remember that excuses and blaming others for the quality of our lives is no different than kryptonite.
And just like holding onto kryptonite, holding onto excuses and blaming others will only make us weaker.
Thankfully, there's a much better option.
Here's what it looks like.
Real Heroes Don't Need a Cape
Growth is painful. Change is painful. But nothing is as painful as staying stuck somewhere you don't belong." -Mandy Hale
I want you to remember the above quote as you read the following story.
Recently on The Positivity Solution's Facebook page, there was a woman named Keisha (not her real name), who shared with me that she made the huge life decision to leave an extremely toxic relationship.
Here are her exact words the day after she left her toxic significant other (re-posted here with her permission):
"I wrote the other night about leaving a toxic relationship. I wanted to report that I have officially moved me, my 3 kids (from a previous relationship), and all our stuff to a more positive atmosphere. I was yelled at and belittled during the whole process, but I stood my ground. I feel mentally and emotionally battered. But I will come through this stronger, and with the satisfaction that I taught my daughters not to stand for being mistreated!"
Pretty awesome, right?
Please trust that there's nothing easy about what she did.
She needed saving. Even more importantly, her three kids needed saving.
And believe me, "waiting for a hero" definitely wasn't an option for her.
So, she decided to be the hero in her own story.
I recently followed up with her to ask where she found the courage to be so heroic, and here's what she said:
"I've been through quite a few hells, and I still have the ability to smile. It's all about how you handle the situation. It wasn't easy, it was most likely the hardest decision of my life. I chose to love myself enough to find the strength within. It's there in all of us, I promise. I believe that we are never handed more than we can handle. We were given this life, because we are strong enough to live it."
This woman, my friends, is no chump.
To me, Keisha is the epitome of what being a hero is all about.
She felt the fear and did the damn thing anyway.
We can all do the same thing the moment we decide that no one has the power over our happiness, our well-being, or our best lives except for us.
No more giving our power away to excuses and blaming others.
No more waiting for the world give us what we're owed.
No more waiting for Superman.
From now on, if we ever need to be saved, we only need to remember this simple truth:
The only hero that you'll ever need is already here.
Your Turn
Is there an area of your life where you need to be your own hero? Have you ever "saved yourself" by being your own hero? Jump into the comments below and make your voice heard!