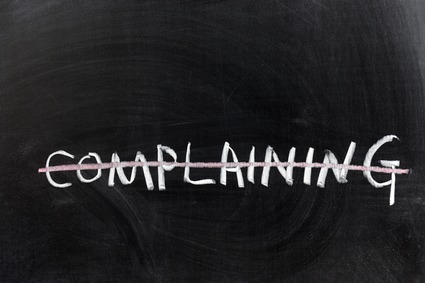 If you're anything like me, there are probably certain traits that you see in other people that drive you crazy.
For example, here are a few less-than-pleasant traits that most well-adjusted people can't stand: rudeness, selfishness, thoughtlessness, laziness, arrogance, intolerance, dishonesty, and apathy, just to name a few.
But there's one more trait that's not on the list above that truly drives me insane.
I think that the reason why it annoys the hell out of me so much is because I used to be the living, breathing poster child for this miserable trait on a daily basis.
I was a chronic complainer. Yup, yours truly.
There used to be a time in the not-so-distant past where I would complain about anything and everything to anyone who had the misfortune of being stuck listening to my constant whining.
It didn't matter if it was about my job, the weather, the pain in my knee, my sorry bank account, my girlfriend drama, how busy I was, how tired I was (you get the picture). If something ever went wrong in my life, please trust that I would instantly put a negative spin on it, and then spend the rest of the day (or longer) complaining about it.
To this day, I am so thankful that I had a friend years ago who was willing to snap me out of my funk by giving me some much-needed tough love.
He told me that my personal relationships would eventually suffer if I continued to constantly suck the energy out of every room with my complaining (he was right).
He told me that my professional career would eventually stall out if I constantly repelled the people who I worked with by complaining instead of taking action (again, he was right).
He told me that my mental, emotional, and even physical health would eventually decline if I didn't make a decision to stop complaining and wallowing in negativity everyday (he was still right).
Thankfully, his tough love completely transformed my life. More accurately, it saved my life.
I have never looked at complaining in the same way ever since, and if you engage in chronic complaining like I did, then hopefully I can help you to break the cycle too.
All it takes is a little tough love. That's why I'm here.
Venting is a Good Thing
Complaining and venting often get used interchangeably, but I think that they are both very different.
I believe that venting is a good thing.
Venting is simply about temporarily (key word) blowing off some steam or appropriately releasing some frustration. For example, you might need to vent after you get off the phone with a ridiculously rude customer, or after a bird took a poop on your brand new jacket as you were walking into the office.
Venting is not about rehashing the drama of the situation indefinitely–you vent about the asshat customer or the asshat bird (side note: can a bird be an asshat?), and then once it's off your chest, it stays off your chest.
Complaining, on the other hand, is nothing like anything mentioned above.
Whereas venting can be done alone (for example, going to the gym for a hard workout, writing an emotional letter then throwing it away, or even crying can all be considered as venting), complaining is all about staying stuck in a destructive pattern of needing other people to serve as a dumping ground for our negative emotions.
There's nothing healthy or positive about the pattern of complaining–for the complainer, or for you, if you're stuck listening to it. And just like many other unhealthy pursuits, it can be addicting if you choose to partake in this activity too often.
As a former addict, let me share how I broke the pattern.
Thinking From Intention and First-World Problems
Years ago, one of my friends challenged me to go 24-hours without complaining.
This may sound silly, but it was a magical experience for me. Just the process of being more intentional with my thoughts, words and actions for 24 hours was like hitting the "reset" button for me. Before doing the challenge, I thought that complaining is something that you're "supposed" to do when bad things happen.
I was so wrong.
Chronic complaining never makes anything better, it saps your energy and the energy of those around you, and it makes friends and family screen you out when you call or run in the other direction when they see you coming.
It is very important to mention that anyone who is dealing with big issues (death of a loved one, serious injury/illness, abuse, etc.), please know that this isn't directed towards you. When I was dealing with some very major issues in my life, I needed to hang out in the darkness for a while before I was ready to live in acceptance (or forgiveness, depending on the situation) and move on.
Specifically, this post about people who choose negativity and complaining when dealing with the far less serious "First World Problems" (FWPs). If you don't know what FWPs are, check out the short video below:
In the future when you're dealing with life's inconveniences (and you will), there really are only two options that make any rational sense:
1) Do something about the issue–and in the extremely rare instances where you can't, then…
2) Vent and let it go.
Complaining incessantly to anyone who will listen to us–while simultaneously wallowing in the negativity for an indefinite period of time, without any desire or interest in solving the issue, can no longer be an option.
Instead of complaining, we can choose resiliency.
Instead of complaining, we can choose thoughts and words that will lead us toward a solution, instead of keeping us stuck in the problem.
Instead of complaining, we can choose to raise the energy in the room and not drain it.
Instead of complaining, we can choose to remember all of the blessings that we have.
Most of all, instead of complaining, we can learn the skill of happiness.
There is nothing easy about any of this. If you are currently addicted to complaining like I was, breaking the vicious cycle may be one of the hardest things that you'll ever do.
Don't let that stop you.
This isn't about living a complaint-free life, a complaint free year, a complaint free month, or even a complaint free week.
This about challenging yourself to do something that's potentially life-changing during the only time that matters:
Just Today.
Good luck.
Your Turn
Are you (or have you been) a chronic complainer? Have you been able to successfully kick the habit of chronically complaining? If so, jump into comments below and make your voice heard!