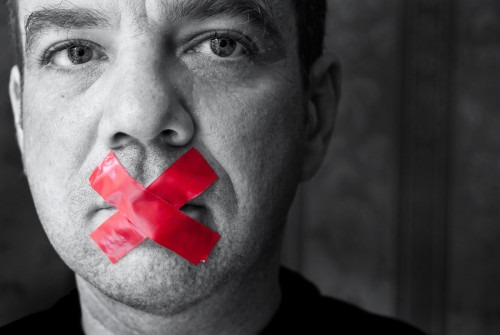 "I could never do what you do."
We were sitting in a coffee shop next door to my office when my friend said those words to me.
My friend is brilliant, funny, and an exceptional writer, but when I asked him what is stopping him from launching his own blog (something that he has talked about doing for months), that was his response.
He had more to say too:
"People are so cruel and judgmental. I don't think that I have what it takes to put my writing out there for the world to rip apart and judge. There are so many haters out there."
Sadly, he's absolutely right. There are so many haters out there.
Some of you already know this, but it took me three long years to find the guts to publish my first ever blog post here on this site.
The reason for the ridiculously long delay, you might be wondering?
Fear of dealing with criticism from the haters.
Yep, that's it. That fear almost stopped me from ever hitting "Publish" on my very first blog post.
Almost.
It took me a while to completely overcome this fear, but now with almost a year of blogging under my belt, I can say with 100% confidence that haters do not need to be feared.
They do need to be dealt with, though.
The problem is that when it comes to dealing with haters, most people give the same tired advice that you have probably heard before:
Ignore them.
Get a thicker skin.
Fight fire with fire.
There are definitely much better ways to silence the haters, so without further ado, let's get on with the business of zipping their lips once and for all.
The Best Way To Deal With Haters
Believe me, you don't have to be a blogger in order to deal with haters.
How many people reading this can relate to dealing with people in your lives who seemingly take great joy in pointing out your flaws, inadequacies, and imperfections?
Also, just to be clear–this post is not about constructive criticism. There's nothing wrong with that at all. This post is solely about the destructive kind.
The destructive criticism could be about your parenting skills, your ability to do your job, how you dress, who you decided to date/marry, the house you live in, the car you drive, your positive attitude, your weight, your hair, the fact that you smile too much, your writing ability…the list could literally go on and on.
You might think that since I write about positivity, I must be immune from dealing with haters. Everyone loves positivity, right?
Well…
Here are some very real (and unfiltered) examples of the some the hate that I've had to deal with since launching The Positivity Solution:
Your blog is way too positive. This is a shitty world that we live in and you clearly live in a fantasy land that's nothing like the real world. You need to quit being such a phony.
I can't take you seriously as a "positivity writer" because you use the words sh*t and a**hole in your blog posts. Stop pretending that you're a positive person.
Your latest blog post made me feel angry/sad/guilty/(insert negative emotion here). You suck as a blogger and I'm done with you.
Ok, so who is

really

writing these blog posts? I know that it can't be you. Every black person I know is practically illiterate and they're definitely not into "positivity." Quit lying to us asshole, we're on to you.
There's a lot more where those came from, but I'm sure that you get the point.
So, how do I deal with these special people?
It's simple.
I do more of what they hate.
This one is pretty important, so I'll say it again:
The best way to silence the haters is to do more of what they hate.
Here's an example of what I'm talking about:
A few years ago at one of my previous jobs, I had a very motivated group of haters who loved to comment on how "phony" I was to anyone who would listen. To them, I was "too nice" and I "smiled too much" to be authentic and real, and apparently, my positive attitude annoyed the hell out of them.
Yes, seriously. You can't make this stuff up.
Let's be honest–what if I foolishly tried to make these people happy by smiling less and by switching up my style by mean-mugging everyone all day and treating people like crap? Would that make them "like me" more?
Of course not.
Changing up my style wouldn't magically turn me into best friends with those people (not that I wanted to be friends with people like that anyway.)
So instead, I did the only logical thing.
I chose to smile more, I continued to be friendly as possible, and most importantly, I chose to be me, unapologetically. 
Interestingly enough, once they realized that their snide comments and immature hating had absolutely no effect on my behavior, the haters were effectively silenced and they moved on to another target who would give them the emotional reaction they craved.
Believe me, it's very possible to rise above the hate, and if you're dealing with haters, you can rise above it too by: 1) showing your haters that their words have no effect on you and 2) showing them that you're happy with who you are by doing more of what they hate.
I know that at The Positivity Solution I won't be able to please everyone.
For some people, I'm too positive.
For some people, I'm not positive enough.
For some people, dropping an occasional curse word means that I'm a negative person.
For some people, because I'm not dropping a steady stream of "F-bombs" from my keyboard onto this page, that means that I'm soft and "afraid to keep it real."
This is all part of the gig–no matter where you go or what you choose to do, the critics will be waiting.
But given the choice to be the person who is critiquing the thing from the sidelines or doing the thing in the arena (shout out to Brené Brown!), I can always lean on the fact that I'm choosing to live each day courageously in the arena.
If you're with me in the arena, then know this–no matter what you're doing, it is impossible to make everyone happy.
Good thing that's not my goal, and I hope that it's not yours either.
As a guy who has spent the majority of my adult life being scared to show the world the "real me" for fear of being judged by the haters, those days are over.
Instead, I will keep giving you every last drop of the authentic Shola.
Every. Single. Day.
Like the late Kurt Cobain said, "I'd rather be hated for who I am than loved for who I am not."
Hurt People Hurt People
"I hope that you get cancer and die."
I remember reading the above comment directed toward the author of a very popular blog that I like to read, and at first, that comment shook me to my core.
Seriously, that's an incredibly horrific thing to say to someone. What type of person would wish cancer upon another human being?
Reflecting back on it now, I completely get it.
Only someone who is severely hurting inside would ever take the time to type up something like that and then publish it on a website for the whole world to see.
Personally speaking, the comments that I shared earlier from my haters are actually the "PG-rated versions" of the comments that I've received over the past 10 months.
Some comments that I've received in the past are so ugly, mean, and cartoonishly evil that they just cannot be taken seriously.
For example, whenever I receive a racist email or blog comment loaded with "N-bombs," I just hit the delete button and remember the wise words of one of my college professors:
Hurt people hurt people.
Here are two very real observations that I've made about haters, that I'm sure you'll agree with:
1) I have never in my life seen a well-adjusted and happy person who purposely writes vicious, hate-filled emails/comments in an attempt to tear someone else down. Why? Because they're too busy being well-adjusted and happy to waste their time being an insufferable jerk, that's why.
2) I have never received a piece of vicious criticism from a person who is actually putting themselves out there by creating anything meaningful. These jokers are experts at trying to destroy things behind the safety of a computer screen (no skill or talent is needed to do that), but they're pretty much incapable of publicly building anything useful (lots of skill, talent, and guts are needed to do that).
I remind myself of both points whenever I deal with mean-spirited comments or mean-spirited behavior. You should too.
Simply put, people who choose to hurt others are the broken souls of the world who are deeply hurting themselves. 
If you're dealing with people who seemingly find pleasure in directing destructive criticism your way–it could be a customer, your significant other, your boss/coworker, or even your mom–just remember this:
Their hate has nothing to do with how they feel about you, it's a reflection about how they feel about themselves.
Focus on the VIPs
In the not-so-distant past, I used to focus so much of my time and energy on the people who didn't "get" me or this blog.
For example, these were some of the common thoughts that would run through my mind on a frequent basis:
Ugh, there she is again! How come this woman only comments when she's trying to find fault or pick a fight? Doesn't she have anything better to do?
Wow, this woman thinks that I'm a fraud because I used the word "asshat" in one of my blog posts. Come on, really???
Why is this guy so annoyed that I keep posting upbeat and positive stuff on this page? Is he lost or something? He does realize that this blog is called The Positivity Solution, right? 
Man, that was such a useless waste of energy.
I spent so much time trying to chase those people down and get them to be happy with me and this blog, and at the same time, I wasn't giving my fullest amount of energy and love to the people who really deserved it.
My focus needs to remain with the people who are my true believers, or in other words: my VIPs.
If you haven't done so already, please take a moment to answer this critical, and potentially life-altering question: Who are the VIPs in your life? If you don't know, then stop what you're doing and check out this must-read blog post: The VIP Section.
Who are the people who "get you" and will always have your back, no matter what?
Trust me, those are the people who you need to focus your energy on.
There will always be haters on the sideline who think that you're a terrible parent, a horrible coworker, you dress funny, and you rock a hideous hairstyle.
Believe it or not, that's okay.
Who knows, maybe there's something constructive in their comments, and if so, it would probably make sense to take action to do something about it.
But if the purpose of their criticism is just to be a destructive hyper-critical asshat, then it's up to you to do the only sane thing:
Give them more of what they hate, which is coincidentally, more of what your VIPs love.
The days of giving the haters in our lives any more power and attention than they deserve, ends today.
As they say, haters are gonna hate regardless.
As for us, we'll just keep on being us.
Whether they like it or not.
Your Turn
Do you have any haters in your life? If so, what technique do you use to deal with them? Jump into the comments below and make your voices heard!
Making Work Work
Are you tired of dealing with the bullies and jerks at your job, and ready to join the new workplace positivity movement? That's good, because change is coming, my friend. If you're ready to join the movement to change how we treat each other at work, reserve your copy of Making Work Work, today! Order link on Amazon.com