Are you doing
your best work?
A PERSONALIZED PLAYBOOK THAT TRANSFORMS HOW YOU PERFORM AND LEAD.

SHOLA RICHARDS
Founder & CEO, Go Together™ Global
Best-selling Author, Go Together
Keynote Speaker, Coach & Consultant


"IF YOU CHANGE THE WAY YOU LOOK AT THINGS, THE THINGS YOU LOOK AT CHANGE."

Operating below our conscious awareness, attitudes and stereotypes impact how we perceive ourselves and others at our workplaces. These implicit biases hinder workplace civility, performance, and innovation.
Armed with a strong bias toward kindness, hard work, and teamwork, Shola guides leaders through a personalized transformation in how they lead themselves and others in their workplace and society at large.


Over a decade ago, I was drowning in the despondency of yet another workday. My success as the top regional performer had been numbed by a culture of incessant workplace bullying. And, I'd recently made the situation worse by filing a formal complaint. In short, I was collateral damage in a company without the process or intention to address my experience.
Exhausted from the drama, with an unrecognizable version of myself at the wheel, I intentionally swerved off the interstate in an attempt to take my own life. But in that half-second, my reflexes responded, and I yanked the wheel away from disaster. As I clipped the guardrail on I 405, something changed...
I uncovered a power within myself
...a burning desire to reverse a trend that happens daily to sixty-five million people in this country alone. This catalyst has since become Go Together™ Movement - a transformational roadmap of mindset, behaviors, and tools that transform workplace cultures and drive results.

I help organizations build compassion, competence, and accountability in the workplace. As a result, sustainable and joyful peak productivity, engagement, and satisfaction become the new norm.



We work with leaders and teams who are looking to:




The illusion that we are separate from each other, more different than similar, is eroding our ability to work, live, and lead effectively. What if we all focused on the powerful idea of ubuntu instead? This transcendent African philosophy embraces the belief that we are universally connected to each other—and Shola Richards suggests it could transform the way we treat others, making us kinder and more respectful to others, on and off the job. Without ubuntu, he argues, we cannot truly live a productive and satisfying life. Go Together is a thought-provoking read that could change our own behavior . . . and the world around us.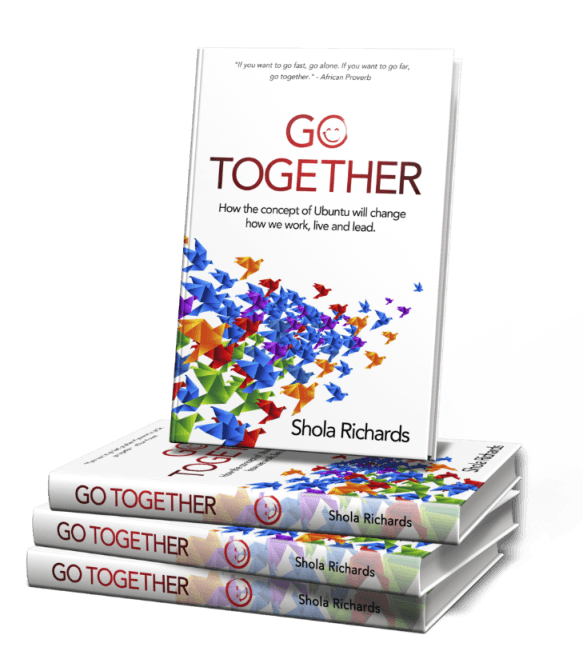 Shola is exclusively represented by Gotham Artists.
Please use the form below to contact his agent, Kate DesRosier.